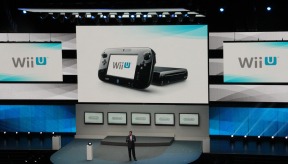 It was just yesterday that Nintendo unveiled the Wii U Gamepad, but today is the big announcement. Everybody welcome the Wii U.
The new console, coupled with the Gamepad, will change gaming entirely, according to Nintendo: "at its core, Wii U changes gaming, how you interact with your gaming friends, and it changes the way you enjoy your TV."
That means Netflix and Hulu and Amazon Video and YouTube, along with the brand new form of gaming brought about by the marriage of the Wii U and the Gamepad.
The Gamepad sports a pressure-sensitive touchscreen along with traditional buttons and directional pad. Nintendo also packed an NFC reader/writer and a gyroscope/accelerometer.
The Wii U will support two different Gamepads.
The new controller will allow for viewing multiple screens (one on the TV of course, and one on your Wii U Gamepad), which the company showed off at their keynote this morning at E3. For example, in PikMin3, the Gamepad will display a three-dimensional map, allowing for a little added perspective.