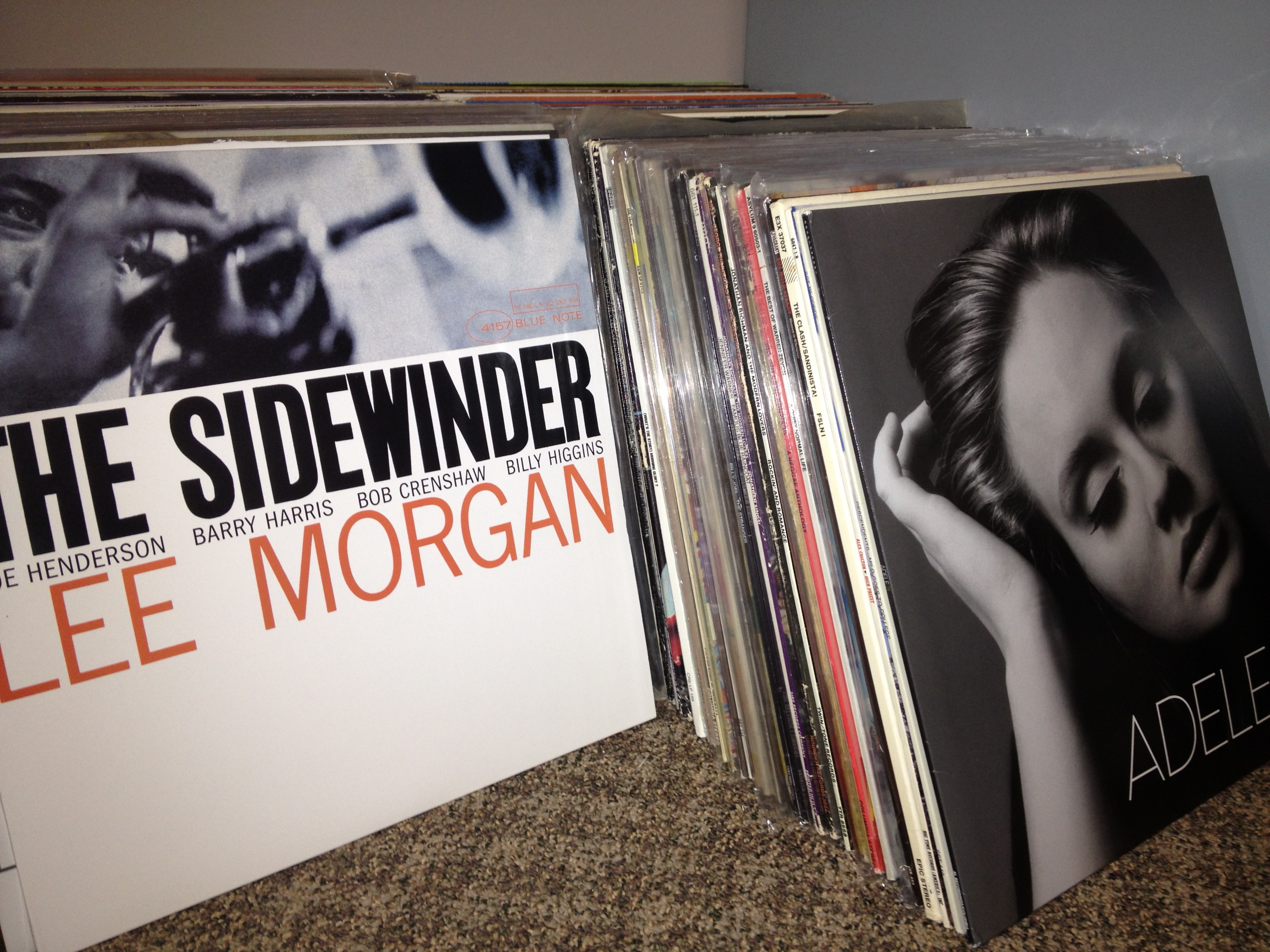 If you're a Kid Friday listener, you know that I (Dave) like to listen to music on vinyl.  You know those "records", 33 1/3, black laquer….O.K., perhaps you've never listened to a record, but you should give it a try.  Kid Friday co-host Hannah bought her very first vinyl record a year ago, when she was 12.  It was Owl City.  Now she owns the new Adele album, 21.
We bought a premium membership to Spotify last December because Hannah has a Sonos system that demands the membership to listen on the device.  Whatever.
About the same time, I started listening to music in my office.  I've had a turntable sitting in there for a couple of years, but just wasn't into using it.
After I started using Spotify, it inspired me to listen to more music.  So much so that I ended up bringing in my "better" hi-fi set-up.  A McIntosh amp, tube pre-amplifier with 1962 RCA clear-tops, B&W speakers and a Thorens TD 160 turntable.
Gone were my Sansui receiver, Acoustic Research speakers and Dual turntable.  They just weren't cutting it.
I fell in love with music all over again.
I now listen to records every day in my office.  This is a good thing for many reasons, the best being that it gets me out of my chair to flip the disc every 15 minutes or so.  I get a little stretch in while I'm at it.  Previously, I've been known for working non-stop for up-to 9 hours stuck in my chair.  Not recommended.
Because of Spotify, I've spent more money on music in the past month than I have in the last 10-years.  We live in a digital "singles" world.  You get to know a band or artist because of 1 song.  You may buy it as a digital download.  You might even buy the next single that is  released.  Great!  You like 2 songs from the same band.
Because I like to listen to vinyl, I want to know if there are several good songs on an album, not just the single.  As I'm out at record stores looking for music, I always pull out my iPhone 4S, open the Spotify app, and listen to a good portion of all the songs on an album I'm interested in purchasing.  If I like, I buy.  It's that simple.
Unfortunately there have been several albums that I've wanted to listen to that are not available on Spotify.  I usually skip buying those because I really want to hear a good sampling of the songs.  Most of the time, it's more than the small previews that are available on iTunes.
What kind of music do I like?  Have you ever heard of "Hard-Bop"?  Here's the link to Wikipedia.  Look at some of the great jazz artists and check a few of them out for yourself.  I have a wide taste in music, including alternative and punk-rock from the late 70's and early 80's.  180 gram vinyl?  Let's say I've got some great stuff on 200 gram.  They are like a thicker cut of french fries.  A lot of people think these heavier weight records sound better.
So now I'm buying albums to add to the 1,000 plus I already own but haven't listened to in at least a decade.
What have I bought recently?  Mostly old albums that have been re-issued (many Blue Note) with a few used ones thrown in.
Big Star "#1 Record"
Sonny Clark "Sonny's Crip",  "Sonny's Crib" and "Dial S For Sonny"
Joe Jackson "Look Sharp" and "I'm the Man"
The Hold Steady "Stay Positive" and "Heaven is Wherever" 180g
The Black Keys "The Black Keys" 180g
Lee Morgan "The Sidewinder" 180g
Syd Straw "Surprise"
Pete Townshend "Scoop 2" and "Scoop 3" 200g
The Real Kids "The Real Kids"
Horace Silver "Song For My Father" 180g
Art Blakey "Moanin'" 180g
Nirvana "Nevermind" 180g
My spending money on music is 100% attributed to Spotify.  I know it's a small, unusual example.  But as the saying goes,  "You've got to give credit where credit is due".
Let's hope Spotify survives.  I'll save that mess for a future post, but music royalties is the killer of models like this.
After it's all shuffled out, I see the music industry combining resources and starting their own service.
Just like the airlines did with Orbitz.