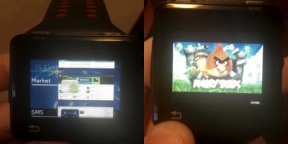 Fitness watches are one thing, but how about a fitness watch that lets you play a few levels of Angry Birds in between wind sprints? Motorola's MotoACTV debuted alongside the Droid RAZR not too long ago, and one developer has finally taken it upon itself to unleash its full potential.
The hack comes courtesy of developer Chris Wade, whose past endeavors include the Dingleberry PlayBook root method and the (ill-fated) iEmu project. While he's best known for his software projects, he's quite the hardware buff too — before working getting to work on a root process, he felt the need to tear the thing apart first.
via Rooted MotoACTV Brings Web Browsing And Angry Birds To Your Wrist | TechCrunch.