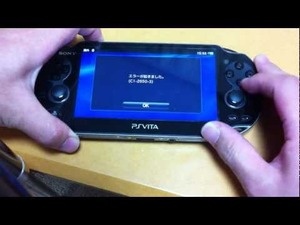 Whenever new hardware launches, whatever it is, there are problems. The PS Vita is new hardware, and while I haven't experienced any hardware issues, others have. These are some of them.
According to YouTube videos, there are some machines experiencing lock-ups and freezing. One error appears to occur during the System Update, which then freezes. Another issue seems to be a non-responsive touch screen. It's still early in the hardware's launch cycle, so it's difficult to discern how widespread the issue is. Pro-gamer Kiryu Tsukimiya tweeted that he soon experienced it.
When the PS Vita freezes, the hardware apparently will not shutdown. A writer at Japanese news site Rocket News experienced that issue during Shin Sangoku Musou Next online play.