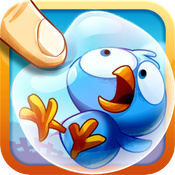 Rabbit and Chick bring you new fun game!
A big war is going to spread out for Carrots! Rabbit fright for "Food", Chick fright for "Mom"! An easy navigating game to stacking from ground to sky, then to outer space universe. It's a fun exciting game to check out clicking hits against bubbles rising! Watch out, you will face many barriers along the way!
Check out Happy Bubble for yourself!