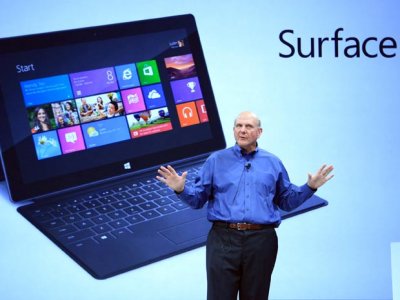 Microsoft Surface is a planned series of tablet computers designed and marketed by Microsoft Corporation. The Surface will be available in two versions, "Surface" or "Surface Pro". "Surface" will run the Windows RT operating system and use an ARM CPU. "Surface Pro" will run the Windows 8 Pro operating system and use an Intel CPU.  The display is a 10.6″, 16:9 widescreen HD Display (Surface), or Full HD Display (Surface Pro), The product was announced by Microsoft CEO Steve Ballmer at a Los Angeles event on June 18, 2012, at Milk Studios. No specific release date was announced at the product introduction.
The Microsoft Surface line features VaporMg, pronounced "VaporMag", the molded magnesium casingthat houses Surface's components paired with a PVD finish, which is a manufacturing process that produces a durable finish. VaporMg allows magnesium to be melted down and molded to the details needed for Surface and allows Surface to weigh 1.5 pounds. Also included in both Surface models is a USB port, a micro-SD slot, and a magnetic strip to attach accessories such as the 'Touch Cover' and 'Type Cover'. There are also two cameras, front-facing and rear-facing. The rear-facing camera will be angled at 22 degrees to allow proper framing of another person while the "kickstand" is in use. The "kickstand" is a .77 mm thin built-in stand that spans the width of the device and allows Surface to be propped up at an angle in landscape orientation for a hands-free viewing experience. Surface Pro has perimeter venting which allows air to flow out the sides, and helps avoid airflow being impeded by hands holding the device.
For the CPUs, the Surface with Windows RT will use a Nvidia Tegra CPU. The Surface Pro, running Windows 8 Pro, will utilize an "Ivy Bridge" Core i5 quad core chip, which is comparable to chips in current Windows laptops,
The Surface device demoed in the Microsoft Surface Events had a new connection port with five pins. This was acknowledged as a magnetic charging connector during Microsoft's presentation event by
Display
Surface and Surface Pro both have screens of 10.6″ with a 16:9 aspect ratio, with the Pro version having a resolution of 1920×1080 and the RT version having a resolution of 1366×768. Both tablets use Microsoft's ClearType HD display technology and support an ultra-wide viewing angle and auto-adjusting screen intensity.Surface has an HD Display and Surface Pro has a Full HD Display. In announcement talk, Michael Angiulo said that when Surface Pro is held at 17″, the eyes will not be able to distinguish between individual pixels.
Touch Cover and Type Cover
Microsoft will offer two keyboard covers for Surface: Touch Cover and Type Cover. Both, when folded up, serve as protective covers that connect to the Surface via a magnetic strip. When opened, the covers are keyboards. The Touch Cover is 3 mm in thickness and has a touch-sensitive keyboard. The Type Cover is thicker and includes a tactile keyboard. The keyboards have gyroscope and accelerometer sensors to determine, based on position, whether or not to accept input. Both also include a multitouch touchpad.
Availability
No shipping/availability date has been announced
via Microsoft Surface (tablet) – Wikipedia, the free encyclopedia.