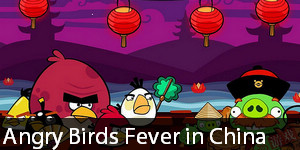 There just seems no stopping those Angry Birds from taking over China — The next move in Rovio's China take-over plan is to open up shops in Beijing and Shanghai, and the company aims to hit $100 million in retail sales in China in the first year of store operations.
According to comments made to local media by Huang Zesen, sales manager of the authorized reseller of Rovio in China, Rovio plans on opening Angry Birds stores in Beijing and Shanghai, and the company is choosing locations at the moment. The company is well on the way to opening the stores between July and August. The retail space of the Angry Birds store in China will be designed at around 200-300 square meters, similar to Rovio's first store in Helsinki, Finland.
China is Rovio's largest and fastest growing market
via Rovio Opening Angry Birds Store in Beijing and Shanghai » M.I.C. Gadget.