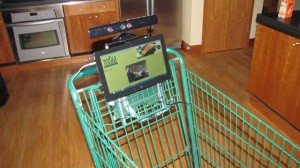 This.
The quest for a high-tech "shopping cart of the future" is nothing new, but Whole Foods is planning to test a new spin on the concept, using Microsoft's Kinect sensor for Windows. The motorized cart identifies a shopper with a loyalty card, follows the shopper around the store, scans items as they're placed inside, marks them off the shopping list, and even checks the shopper out in the end.
Microsoft showed the very early prototype, being developed for Whole Foods by a third-party developer, Austin-based Chaotic Moon, during an event on the Redmond campus today, hosted by Craig Mundie, the company's chief research and strategy officer.
The company says the project is literally weeks old, and that was apparent in the demo, which included a couple of false starts where the sensor didn't precisely the shopper. The technology will need to be ironed out before it's deployed, lest our shopping trips turn into destruction derbies.
But it's an interesting application that shows what outside developers can do now that a Kinect software development kit has been released for Windows, expanding the sensor beyond the Xbox 360 game console.
via Whole Foods prototype puts Kinect on shopping cart, follows people around store – GeekWire.