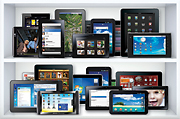 Tablet owners overwhelming prefer Wi-Fi-only devices over those with cellular connections, according to a new study by Connected Intelligence, a service from market research firm The NPD Group.
Slate users are relying more and more on Wi-Fi for a number of reasons. According to Connected Intelligence vice president Eddie Hold, consumers are concerned about the high price of cellular data plans, and they're willing to rely on Wi-Fi instead.
via Study: Tablet Buyers Use Wi-Fi, Not Cellular Data | PCWorld.